Par fishery has matured over the last 20 year and become known as one of the best Carp and Catfish venues in the south east, set in over 12 acres of Essex countryside surrounded by woodland and farm land, a abundance of wildlife can be seen in and out of the water; Little Grebe, Kingfisher, Reed Bunting, Sparrowhawks, Woodpeckers to the rarely seen siskin, nuthatch and barn owls.
The fishery holds some stunning fish with the Carp record standing at 38lb and the Catfish record at 105lb, Tench over 11lb and quality Roach, Rudd & Perch. Both lakes have designated swims all capable of taking some of the largest bivvies' on the market.. Read More ».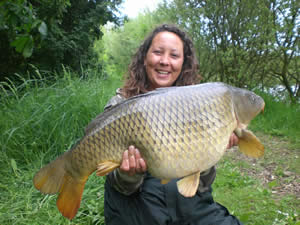 Carp to over 40lbs
Catfish to over 100lbs
Two lakes to choose from
Swims cater for the largest bivvies' on the market
Very pretty lakes
Easy to get to just a short drive outside Brentwood
Simple Lightbox without Javascript conflict
We will be regularly updating the web site with the latest news and availability on the lake so keep stopping by and catch up with the latest action from Par Fishery and Brentwood Angling. Also we will be running competitions on the best fish picture taken on a monthly basis, so if you have fished Par this month email us your picture and you may win a ticket to fish Par for FREE! Remember you have to send us your pictures to win (terms & condition's apply)
Click Here to Send Us a Picture
Featured Articles
Lots has been said about Par Fisheries with many features being crafted in all the quality fishing magazines with some of the UK's top carp anglers having great sessions on our lakes, isn't it about time you booked you spot too? See below for a taster!