Carp Academy with Adam Penning
Carp Academy with Adam Penning
Read what Adam has to say on Par Fishery Adam Penning: Par Fishery Article
It was spring 2008 and I was asking the chaps at work if anybody knew of a nice local lake, not too far from Chelmsford where I live. Tom Dove mentioned a couple of lakes he had previously fished which were nice looking, not too busy and held some nice carp; apparently they were run by Brentwood Angling, so I gave them a call and not too much later I was on my way down for a look. The lakes are run on a booking basis; the larger front lake accommodating 7 anglers and the back lake 4. Perfect – I love fishing in uncrowded places and this seems a very sensible way of running it both for the anglers and for the wellbeing of the fish.
The lakes themselves are very mature and surrounded by Essex farmland offering the angler a choice of the prolific front lake which is a fantastic place to catch numbers of double figure fish and also the home to some giant catfish, and the back lake which is more lowly stocked but contains some much larger fish to over 35lbs.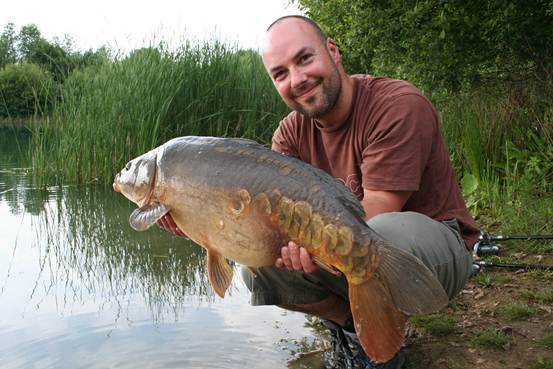 My first trip was a social trip with a mate. We decided to fish the front lake and set up on the farthest bank from the car park. Mark fished with particles and pellets, walking round to bait the margin and then casting across. I chose to fish open water with boilies, opting for Mainlines Cell. I fished 3 bait stringers with size 10 Wide Gapes and a plain bottom bait on the hair. The action was so hectic I decided to wind in for the night as fish after fish went into the net, most being mint mid and upper double figure commons. I was having a great time and had a couple of double takes – something that rarely happens to me these days! Mark also caught plenty although we did notice that my boilie approach was picking out the bigger fish. We finished the session with a surface attack as the balmy weather drew big numbers of fish up onto the surface, catching another ten fish up to almost 20lbs.
I returned to the front lake a month later to film a section for Skys' TightLines; the subject was to be floater fishing and due to the nature of filming, the date had to be booked well in advance. I prayed for good weather, and that is what I got. Well right up until the day before anyway! Then it turned cold, wet and windy, in fact the temperature dropped by around ten degrees! I think it is testament to the quality of the fishing on the front lake that even with the odds very much against me I was still able to catch a lovely mid double on a floater for the cameras.
On my latest trip I decided to have a go on the back lake for the first time. On this occasion I was to do a feature for Total Carp magazine with the added pressure of needing to catch for the camera. Turning up for one night on the back lake and expecting to catch a carp to order is perhaps a little optimistic, however I knew that if I could nick one it would be a goodun.
Again I elected to bait quite heavily with Cell boilies, spreading them along the edge of the heavy marginal weed growth. I fished stringers over the top with a simple bottom bait presentation on long SuperNatural hooklinks. Hook choice was a size 8 Wide Gape and I placed a large lump of putty below the shrink tube to help pull the hook point down if the rig was picked up. I baited twice during the day, putting in a couple of kilos, but I didn't cast out until evening arrived – I wanted the carp to visit and feed without any lines in the area allowing them to gain confidence and hopefully increase in number by the time I got the rods out.
Just an hour after casting I had a take which really surprised me! The prize was a pristine, hard fighting common a touch under 25lbs. After sorting out the mayhem I repositioned the baits and my good buddy Marc Coulson cracked open a pair of beers to celebrate. Little did I know at that point, but things were going to kick off big style!
Less than 2 hours later I received another bite which I unfortunately lost in the thick weed. It felt like a whacker and I was not happy!! I redid the rods and we retired around 11.30pm, Marc went to cast his rods out over in the far corner and I settled down hoping for more action. At just after one, I was awoken by a stuttery take and after a real tear up netted a totally stunning half linear of 27.8; I didn't think they made them like this in Essex!
We agreed that I wouldn't wake Marc again unless I bagged one over 25lbs and we bade each other good night. Throughout the night I had 4 more runs, and although I tried hard for a reason to wake him up again, the best I could manage was a 21.12, a 24.12 and one of exactly 25lbs! Not wishing to sack them I slipped each one back without a picture after taking a few moments to appreciate them on the mat. It really was a fantastic nights fishing and we both agreed we would be back for more in the not too distant future!
All in all, I can see Par becoming one of my very favourite venues – it really is a bit special and I can thoroughly recommend it. Hopefully I will see you down there and if I do, mine is milk and no sugar. Good luck!